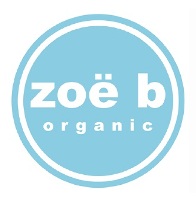 Zoë b Organic
The World's First Biodegradable Beach Toys - Made with a biobased material that comes from American-grown corn. These toys full biodegrade in microbial environments (soil, water, home composting, industrial composting in 2-3 years). Made in Meadville, Pennsylvania, USA.
The Sleepy Hat - a unique fold-down mask that blocks out light. The adorable hat is breathable, super soft, 100% organic pima cotton. Made in Asheville, North Carolina, USA.
---

---
Zoë b Organic Sleepy Hats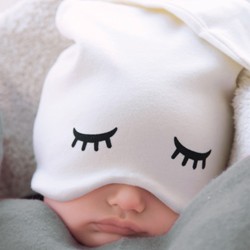 Sleepy Hat unique, fold-down mask that blocks out light.blocks out light and visual stimulation.

Designed with safety in mind, this hat is breathable, super soft, 100% organic cotton--so that you can feel good about putting it over your baby's delicate skin and eyes.
The hat comes in one piece with an extra long top that can be knotted to ensure the hat does not slip down over the baby's mouth. The sweetest part of the cap is most certainly the expressive eyelashes that pop out when the baby is at rest.
Made in Ashville, North Carolina, USA.
Available in: Sweet Cream.
Available only in 1 size: 3-to-9 months
---
---
---
The Story of Zoë b Organic:

....below is excerpt from Zoë b Organic website:

"About Zoë b Organic

I am a "green" mom, not an eco-evangelist but a mom who thinks we need to take care of our planet for the sake of our children. I believe parents deserve options that are both safer for their children and healthier for our planet. In fact, I think that's pretty much the only option. As a mother of three young children, I've been frustrated by the lack of "eco-friendly" options out there for babies and kids. Reading books like Cradle to Cradle and watching films like Food, Inc., I've become more passionate than ever about providing moms with smarter, more sustainable choices.

Whenever our family goes to the beach, we do "Trash & Treasure Hunts" with our kids. Over time, we've picked up a lot more trash and a lot less treasure. That's ultimately what led me to create the world's first biodegradable beach toys—toys made from corn that completely disappear in 2-3 years if washed out to sea. But I wanted to go further and see the problem of plastic pollution in our oceans for myself. That meant traveling by boat to the middle of the Pacific—a place so remote, that few human beings have actually seen it.

I should mention here that I've never been comfortable on the water—not even on a lake—and I'm prone to motion sickness. So I was scared to death of being on a boat for 3 weeks, smack dab in the middle of the ocean, battling seasickness. Plus I knew it would be tough to be away from our three children—ages 4, 8, and 9—all that time. But if I want to go out and try to help change the world, I first have to leave my own comfort zone, right?

So on May 3, 2012, the research boat Sea Dragon set sail from Majuro in the Marshall Islands with a crew of 14, including me. We embarked on a 19-day, 2,600-mile research expedition organized by Algalita and 5 Gyres—to study plastic pollution in the North Pacific Gyre—or "Western Pacific Garbage Patch"—on our way to Tokyo.

Valerie Lecoeur
Founder, Zoë b Organic"
---
Dear Retailers:
Please contact me for ordering and information.
Best regard,
Diane Kocevar
917-543-4160 | dianekocevar@gmail.com
Wholesale Rep for Zoe b Organic / Natursutten Pacifiers for these Eastern States: Connecticut; Delaware; Maryland; Massachusetts; New Jersey; New York; Pennsylvania; Rhode Island; Virginia; Washington DC.