Pima Cotton Newborn Gowns by Ollie & Bess

These pima cotton baby gowns are made with 100% natural pima cotton. These garments are manufactured in Peru by Peruvians. Peruvian pima cotton is the world's finest pima, prized for its exceptional softness and brilliant luster, as well as its durability.
For wholesale opportunity, please call 917-543-4160 (retailers only)!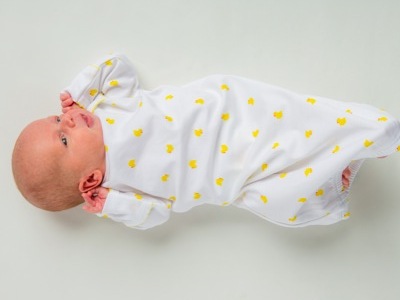 ---
Pima Cotton Newborn Gowns

ALLIGATOR design embroidery
Baby Gowns
This newborn gown is embroidered with a Green Alligator.
Matching Picot trims. Fold-over mittens to protect scratching.
An elastic bottom makes changing time easy breezy
Made in Peru. 100% pima cotton. Machine Wash.
Sizes: 3 months, 6 months.
Suggested retail $36.00

CRAB design embroidery
Baby Gowns
This super soft baby gown is embroidered with our exclusive designs with matching Picot trim, mittens and elastic bottom.
Made in Peru. 100% pima cotton. Machine Wash.
Sizes: 3 months, 6 months.
Suggested retail $36.00
---
BLUE ANCHOR design embroidery
Baby Gowns
This super soft baby gown is embroidered with our exclusive designs with matching Picot trim, mittens and elastic bottom.
Made in Peru. 100% pima cotton. Machine Wash.
Sizes: 3 months, 6 months.
Suggested retail $36.00

PINK ANCHOR design embroidery
Baby Gowns
This super soft baby gown is embroidered with our exclusive designs with matching Picot trim, mittens and elastic bottom.
Made in Peru. 100% pima cotton. Machine Wash.
Sizes: 3 months, 6 months.
Suggested retail $36.00
---
BUNNY design embroidery
Baby Gowns
This super soft baby gown is embroidered with our exclusive designs with matching Picot trim, mittens and elastic bottom.
Made in Peru. 100% pima cotton. Machine Wash.
Sizes: 3 months, 6 months.
Suggested retail $36.00

DUCK design embroidery
Baby Gowns
This super soft baby gown is embroidered with our exclusive designs with matching Picot trim, mittens and elastic bottom.
Made in Peru. 100% pima cotton. Machine Wash.
Sizes: 3 months, 6 months.
Suggested retail $36.00
---
GREEN SAILBOAT design embroidery
Baby Gowns
This super soft baby gown is embroidered with our exclusive designs with matching Picot trim, mittens and elastic bottom.
Made in Peru. 100% pima cotton. Machine Wash.
Sizes: 3 months, 6 months.
Suggested retail $36.00

PINK SAILBOAT design embroidery
Baby Gowns
This super soft baby gown is embroidered with our exclusive designs with matching Picot trim, mittens and elastic bottom.
Made in Peru. 100% pima cotton. Machine Wash.
Sizes: 3 months, 6 months.
Suggested retail $36.00
---
Dear Retailers/Boutique Owners:
Above is only a sample of Ollie & Bess baby clothing.
You can see more info at: http://ollieandbess.com/
Ollie and Bess is a family owned business serving the U.S.. Their peruvian pima cotton baby clothes and accessories are made with pure pima cottom, super soft, and made in Peru. Retail prices ranges from $18-to-$50.
For immediate order/delivery please call us at 917-543-4160!
Best regards,
Diane Kocevar
Call 917-543-4160 | Email dianekocevar@gmail.com
---
Some of top Peruvian designers are: Elfer Castro | Gleny Castro | Ricardo Davila Cherres | Meche Correa | Lucia Cubas | Ana Maria Guiulfo | Nando Mesia | Emma Giovanna Sanchez Montoya | ...Stores that carries pima cotton baby clothes:
-
Magic Windows of New York, 1186 Madison Avenue, New York, NY 10028 / (212) 289-0028
-
Bonne Nuit, 1193 Lexington Avenue, New York, NY, 10028 / (212) 472-7300
-
The Little Pillow, 187 S 9th Street, Brooklyn, NY, 11211 / (718) 782-1089
-
Kids N Glamour, 163 Lee Ave. Brooklyn, NY, 11211 / (718) 388-2229
-
La Bebe, 196 Lee Avenue, Brooklyn, NY, 11211 / (718) 963-1463
-
Baby Palace, 745 Bedford Avenue, Brooklyn, NY, 11205 / (718) 506-9084
- Baby Imports, 926 50th St. Brooklyn, NY, 11219 / (718) 438-5277
-
Hosiery & More, 4804 13th Avenue, Brooklyn, NY, 11219 / (888) 520-7520
-
F &F Family Shop, 5301 13th Avenue, Brooklyn, NY, 11219 / (718) 853-4441
-
Fierson's, 122 Kraft Avenue, Bronxville, NY, 10708 / (914) 337-0475
-
La Coccinella Jewelry and Fine Gifts, 128 Shiel Avenue, Staten Island, NY, 10309/ (718) 948-4974
-
Baby Dreams, 2 Ralph Blvd, Monsey, NY, 10952 / (845) 425-2229