TORRES
Children's Garment from Spain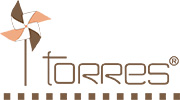 TORRES.
The company's flagship brand. 45 years of good work and three generations dedicated to her.
Brand is born so that our girls feel special. Fashion in uppercase.
This Spanish brand is dedicated to special occasions not to mention the day to day, and always through the prism of elegance.

---

About TORRES
Beginnings

The company named ELISA ANDRES CARBONELL S.L was founded in 1964.
That same year, Doña Elisa received a certificate for artisan handcraft and set up a workshop for making clothes.

The workshop began manufacturing children´s garments, mainly for girls, under the commercial brand name of CREACIONES TORRES. Their principal clients were shops with a variety of brands throughout Spain.

In those times all the process of textil manufacturing was done by hand.
The company specialised in dresses with smocking, and in addition features of embrodery and interwoven ribbons. In fact, smocking continuesto be one of the main attractions for production of the company and right from the start has always been recognised for its high quality confection.

70′s / 80′s

Even on those times the outstanding desings of the garments could already be appreciated. The designs were all created by Doña Leonor Valles who was Doña Elisa´s niece. Doña Leonor drew the designs using pencil and paper, and this, once again demonstrates the strong origin of the family on the future partnership.

At the beginning of the 1970, Doña Elisa´s son, Don Vicente Torres Andrés, joined the company. This involved a generation renewal, bringing with it new business ideas and concepts for the future growth and expansion of the company. It was at that particular moment when the first machinery for cutting fabrics was purchased, because until then everything had been cut manually.

Actually

From then onwards, up until today, there has been an excellent business relationship whith the enterprise El Corte Inglés S.A. Due to the expansion of the company bigger premises had to be found, so , in 1975 a plot of land was bought at 31 Aspe Street, in the neighbourhood of Carolinas de Alicante, where a three story building was constructed for the new installations of the company.

On October 31, 1981, the company of artisan handcraft became a limited society, and, in addition, began to branch into a new channel of sales withing El Corte Inglés S.A. itself, thus diversifying its products, which up until now, had been focused on the traditional dress.


For retail opportunity, please call 917-543-4160!!