Labor and Delivery Gowns by Pretty Pushers

Made in USA

---
Labor and Delivery Gowns - created by Mary Apple

These pretty hospital gowns for Labor and Maternity are smartly designed and a trendy alternative to the unisex hospital gowns that expose your backside and more. Great gift for baby showers and moms-to-be.
Frontal openings to allow for fetal monitors
Low-cut back to allow for epidural access if necessary
Adjustable tie closures. Tie-neck halter for immediate skin-to-skin access
Sizes: One Size (2-16 pre-pregnancy) and Plus Size (18-26 pre-pregnancy)

Available in 3 colors: Black | Hot Pink | Clover Green
100% Cotton. Machine wash and dry.
Made in USA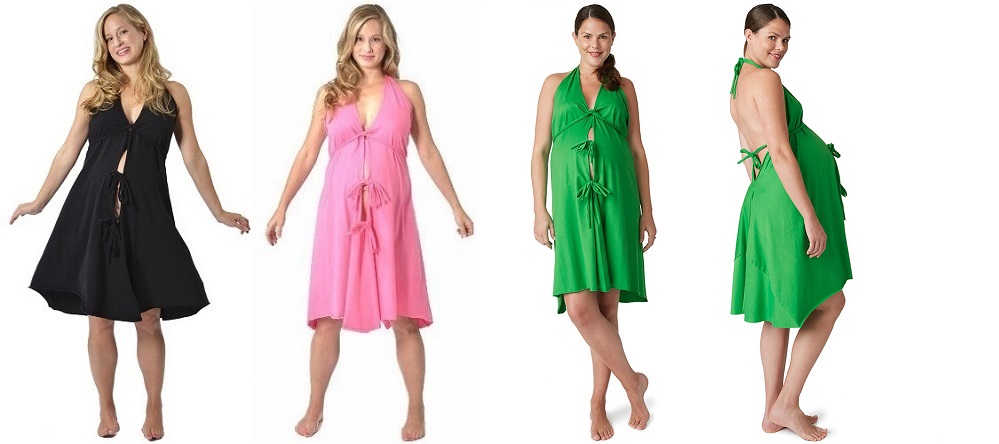 ---
The "I Dream Of" Collection Labor and Delivery Gowns

Three everyday habits become nostalgic memories for 40 long weeks: Coffee and Sushi
So until you can once again indulge, here they are screen printed onto our original delivery gown. Own Your Labor!
---
The Transition Gown is
three gowns in one
as it can be worn as
a maternity dress, a labor/delivery gown and a nursing dress.

Made with super-soft cotton jersey spandex, this go-to garment keeps your fashion sense intact while accommodating your pregnancy and post-baby figure.
A hidden frontal opening that provides access to fetal monitors
Snaps for the epidural
Open halter neck to allow for other IV's during labor and delivery
The cross wrap styling allows for immediate skin to skin access after birth and for breastfeeding.
Machine washable and durable.
Material: 97% Cotton; 3% Spandex.
Made in the USA.
Available in 3 color combos.
Sizes S - XL

---
The new Cap Sleeve Transition Gown
We apologize, ladies. Some of you have been asking us for YEARS to cover your back...and we kept insisting on the halter neck only. As if that was the Pretty Pushers trademark style that we couldn't stray from. Well, we've strayed!
Better late than never though, right? The new Cap Sleeve transition gown incorporates all the smart design aspects of the original labor gown, but in a more wearable way than ever!
Available in sizes 2-24
97% cotton/3% Spandex
Machine Wash and Dry
Made in the USA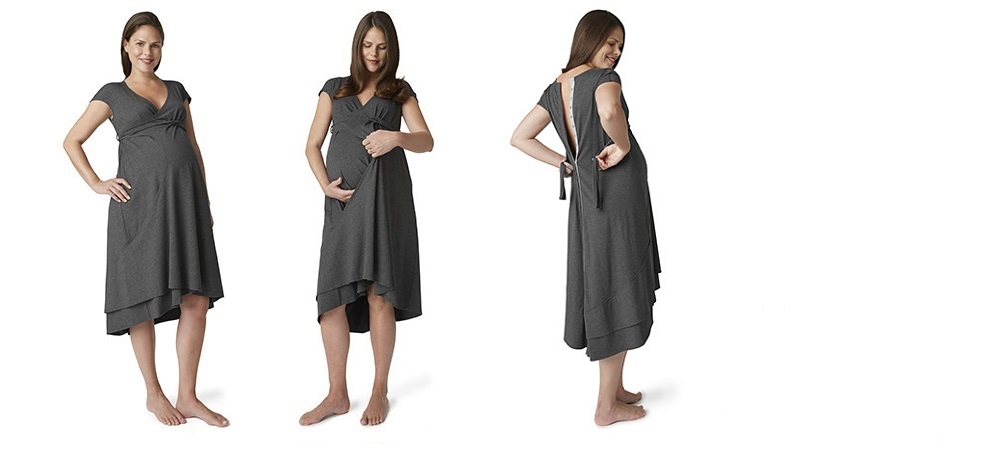 ---
---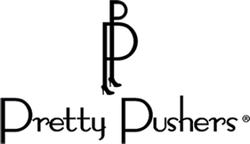 Dear Retailers/Store Owners/Store Buyers:
Pretty Pushers makes innovative products for the expecting mothers. Made in USA. Natural Cotton.
Best regards,
Diane Kocevar
Comments/Information Request: Call or Text 917-543-4160
Email: dianekocevar@gmail.com
---